Membership Sign Up
"This is supreme Drumming education, so many licks and solos to learn from different areas of Funk and Jazz . John X's presentation is excellent, the filming and sound are great, and his explanation of every single solo is right on. I highly recommend this series."...Colin Bailey (Jazz Drumming Legend)
"John X has long been a master of systemizing what it takes for a drummer to sound good. And the simple truth is this: when we sound good, we feel good ... and then band feels good, and so the music benefits! John's lessons are concise, effective, to the point and, most of all, they are fun. For you or a drummer you know, John X's lessons are a gift that will keep on giving." ....Peter Erskine (Weather Report, Chick Corea, Stan Kenton & Steely Dan)

"I've known John for many years and have watched his evolution as a player and teacher. The catalog of lessons he's put together cover the art of drumming from many angles. The content of each lesson is excellent... expertly taught, skillfully performed and beautifully filmed. Congratulations my friend"....David Garibaldi (Tower of Power & author of numerous drum books)

A ONE MONTH MEMBERSHIP IS ONLY $8 PER MONTH!

Membership Includes:
Access to a library of over 130 easy-to-understand, step-by-step videos and
transcriptions that will help take your drumming to the next level
FREE Access to "Select" transcriptions for my YouTube Videos

Purchase "Style Studies for the Creative Drummer" at 50% off of retail price...(US Sales Only)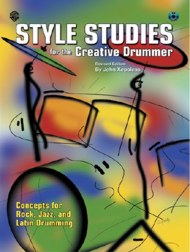 PLEASE NOTE!
When you become a member your membership fee will be made on a recurring basis. If you do not want it to recur at the end of the payment cycle go to the member log in page and follow the directions on how to cancel recurring payments.