John Xepoleas Biography

John Xepoleas is one of the most respected drummers and educators on the West Coast. His Online Drum Lessons and YouTube Drum Videos have become a valued resource for step-by-step, easy to understand lessons on a variety of drumming topics.
John started performing and teaching in 1971 and has been an active part of the San Francisco Bay Area music scene ever since. In 1978 he received his Bachelor of Arts degree in Music Performance from Cal State University East Bay. John has performed in a variety of musical situations ranging from jazz, rock and funk to big band, R & B and fusion.
In 1981 John Published his first book, Studies for the Contemporary Drummer and he became a contributing writer for Modern Drummer magazine. His articles and columns appeared on a regular basis for the following ten years.
In 1991 John produced and co-authored the first volume of Drum Lessons with the Greats (Warner Bros. Publications). The book included ideas and concepts from Dave Weckl, Steve Smith, Terry Bozzio, Peter Erskine, Kenny Arnoff, and Gregg Bissonette.
In 1993, due to the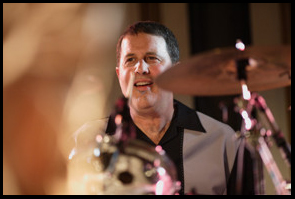 success of the first book, John collaborated with some of today's most talented musicians to develop a series of Lessons with the Greats books for guitar, bass and saxophone. Mike Stern, Steve Lukather, Alphonso Johnson, Jimmy Haslip, Ernie Watts and Hubert Laws are just a few of the artists the were included in this series.
In the spring of 1995 John was appointed director of drum set studies for the Soundwall Rock 'N' Roll music camps. Then in the fall of the same year he played on the Camel CD release, Harbour of Tears.
In January of 1996 John's Drum Lessons with the Greats 2 was released. The lineup for this volume included: Neil Peart, Mike Portnoy, Chris Parker, William Kennedy, Tim Alexander and Jonathan Moffett.
In 2004 John's book, Studies for the Contemporary Drummer, was re-released under the title, Style Studies for the Creative Drummer. The newly revised version includes numerous new and updated examples. Check it out!
In 2012 John worked with Alfred music to combine the material from his two successful Drum Lessons With The Greats books and released Essential Drum Lessons With The Greats. Take a look.
John is also a respected session drummer and studio engineer. Listen here.
In addition to creating new content for JohnX Online Drum lessons, John performs regularly with The Fundamentals and Fundz Jazz. He works on select freelance projects, maintains a thriving teaching practice and is director of music for the Soundwall Summer Rock Camps.
John plays: Drum Workshop drums and pedals; Zildjian cymbals; Vic Firth sticks; Aquarian drum heads, the MAY miking system and Shure microphones.
Take a look at John's "Game Changing Moment" presented by Vic Firth