John X Books
Style Studies for the Creative Drummer
Style Studies For The Creative Drummer
By John Xepoleas
68 pages Cd Included
Alfred Music (MMBK0054CD)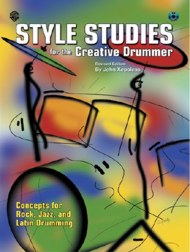 Being well versed in a variety of musical styles is one of today's most essential drumming skills. Comprised of three sections, Style Studies for the Creative Drummer will help you develop a clear understanding and a solid foundation of rock, jazz and latin drumming. Each lesson contains basic rhythms plus numerous practical variations, all of which have been proven successful in a variety of performance settings.

Teachers, you will find Style Studies for the Creative Drummer an excellent teaching tool. Teach your students the basic grooves they will need to develop as a drummer. Teach musical phrasing for all of the styles and help you students develop the confidence they will need to perform in school or with their own bands.

From the beginning to the advanced drummer, take your drumming to the next level with Style Studies for the Creative Drummer.

$25.00 (Price includes shipping within the continental United States)
**I only ship to the Continental United States. For sales outside of the U.S. please purchase from Amazon.com or one of the retailers listed on the Alfred Music Websiten the United States
Essential Drum Lessons With The Greats
Essential Drum Lessons with The Greats
Produced and Co-written by John Xepoleas
95 pages 2 Cd's Included
Published by Alfred Music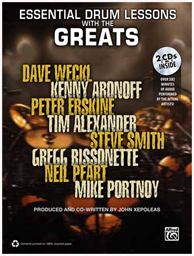 Would you like to take a private lesson from one of the world's greatest drummers?  Gain a deeper understanding of their techniques, concepts, grooves and fills?  Have examples of their playing clearly notated, explained and demonstrated?  I asked myself this question back in 1992, and with a resounding YES, a two-volume edition of  "Drum Lessons with the Greats" was conceived, written, published and soon thereafter, utilized by drummers from around the world. 
Now, almost 20 years later, this valuable resource is once again available. "Essential Drum Lessons with the Greats" includes artists from both of the previous books presenting their timeless material in a newly revised single edition. Grab your sticks and dig-in, as these world-class drummers candidly discuss, explain and demonstrate some of the drumming concepts they are best known for.
Neil Peart delivers lessons on developing fills, creating drum parts and soloing in ¾ time; Dave Weckl demonstrates some great sounding triplet hand & foot combinations, one of his trademark six-stroke fills and how to work with double strokes on the drum set; Steve Smith offers an in-depth three part lesson on developing great sounding linear fills; Kenny Aronoff lays out an intense series of rock solid hand and foot exercises; Mike Portnoy gives you an in-depth five part look at odd time signatures; Gregg Bissonette offers a lesson on how to develop fills patterns, shares one his favorite sticking patterns applied to the kit and demonstrates some of the best sounding reggae grooves you'll ever hear; Peter Erskine takes you on a journey with sound and feel, shows you how to develop a theme and then explains how to play some very hip subdivisions; Tim Alexander presents an alternative approach to playing double bass, creative ways to playing the hi-hat and teaches a lesson on developing tom grooves.
I hope you enjoy the book and find it a wonderful opportunity to take a close and personal look at the techniques, concepts, grooves and fills of some of the world's greatest drummers.
$26.99.....Purchase the Book
Be sure to check out my Online Drum Lessons

Master Lessons For The Creative Musician
Master Lessons For The Creative Musician
(Formerly Sax/Flute Lessons with the Greats)
Co-Written by Bruce Mishkit
Developed By John Xepoleas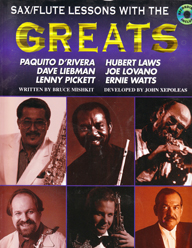 94 pages Cd Included

90 Pages of exercises, etudes,transcriptions, insight, and information from Paquito D' Rivera, Hubert Laws, David Liebman, Joe Lovano, Lenny Picket and Ernie Watts. A one-of-a-kind book/audio package filled with musical examples and a wealth of professional insight and advice. Includes an audio CD with lesson examples played by the artists.
$24.95 - To order