Being well versed in a variety of musical styles is one of today's most essential drumming skills. Comprised of three sections, Style Studies for the Creative Drummer will help you develop a clear understanding and a solid foundation of rock, jazz and latin drumming. Each lesson contains basic rhythms plus numerous practical variations, all of which have been proven successful in a variety of performance settings.

Teachers, you will find Style Studies for the Creative Drummer an excellent teaching tool. Teach your students the basic grooves they will need to develop as a drummer. Teach musical phrasing for all of the styles and help you students develop the confidence they will need to perform in school or with their own bands.

From the beginning to the advanced drummer, take your drumming to the next level with Style Studies for the Creative Drummer.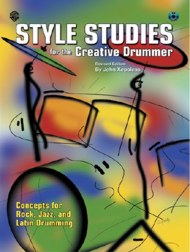 Member's price only - $12.50
Plus Shipping
**US SALES ONLY**